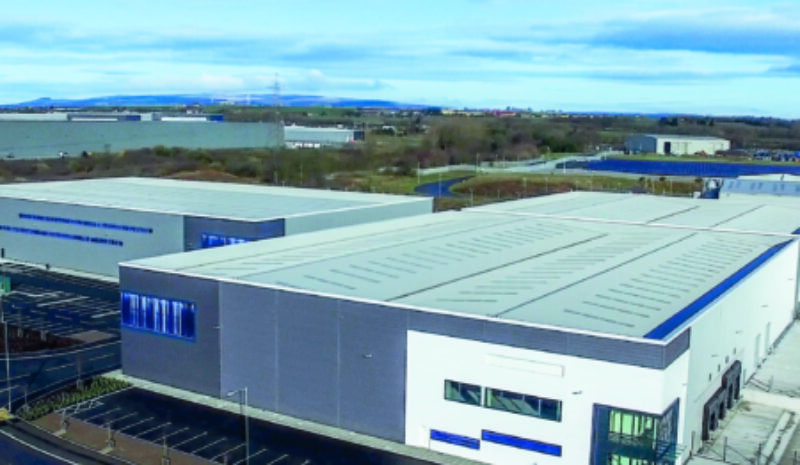 Understanding the industrial investment property landscape is no easy task in light of the unprecedented disruption caused by Brexit, but the key is harnessing expert insight.
B8RE investment director Simon Wood is recognised as a leading authority in the North West industrial investment market, with extensive work across the region since 1992.
As we approach the year end of 2019 and prepare to release the latest version of our ever-popular bi-annual Market Report, Simon takes some time to share expert analysis on the North West industrial market, current activity and some of the findings of their research to date, and of course the highlights and potential challenges of the market.
At a Glance
Perhaps unsurprisingly, ongoing Brexit and general political confusion has been a key driver of uncertainty and more challenging results, but the outlook still remains relatively strong for this sub sector of the market, especially when compared to other market sectors.
Simon, can you share some insight into your role at B8RE?
"I'm responsible for the day to day running of the business, along with fellow directors and founders Jon Thorne and Steve Johnson. I also lead the property investment team working very closely with my colleague John Burrows as well as the occupational teams, to provide joined up and well researched advice.
"At home, I'm married to Kirsten and have three children, Ben, Daniel and Jess.
"Outside of work I love skiing, tennis and running, I'm partial to good food and wine, preferably shared with friends and family! Finally, I love going to watch Manchester United with my boys."
Your latest Market Report shows that £193M of NW industrial property investments were transacted in H1 2019 – a decrease in transaction volume in the comparative period last year of 57%. Additionally, transactions are taking much longer than usual to complete, with over £95m (15 deals) currently under offer.
Is this trend continuing and is the downturn in trading a sign of things to come?
"Transactional volumes are most certainly down in the North West market and much like H1 2019, we expect H2 to be similar.
"We've had a look at the transactional volumes for Q3 and the start of Q4 which are showing some interesting trends:
£195m completed in Q3 2019 (18 deals).
£216m completed in Q3 2018 (19 deals).
This reflects a decrease of only circa 10%.
A further £70m worth of transactions have completed in Q4 2019.
"For H2 2019 to date, £265m worth of transactions have completed, against £485m in total for H2 2018. It unlikely another £220m of deals will happen this year.
"Pricing is still holding up as evidenced by recent deals completing such as Movianto, Haydock and Midpoint 18, Middlewich for strong yields.
"Deals are most certainly happening, particularly in the industrial sector and on good quality assets, both prime or secondary.
"Volumes are still down, albeit an improvement on H1, partly reflecting the time lag caused by Brexit uncertainty in late 2018.
"Pricing is key and assets where vendors expectations are high or where there are some significant risk issues are remaining unsold.
"B8RE alone transacted approximately £120m worth of industrial investment since July. This was across 7 deals, all of which were completed successfully at the price originally agreed. This is encouraging bearing in mind some were agreed some 6 to 12 months ago.
Demand is coming from a wide spread of buyers, the majority of whom are cash."
What are the most notable deals you've seen?
"Our deals have been with Warrington Council, Mayfair Capital, Infrared Capital Partners, Warehouse Reit, Columbia Threadneedle, Cabot as well as a number of private individuals.
"In terms of notable deals this year that support the popularity of the sector and the North West, I'd point to:
Warrington Council's acquisition of the Movianto distribution unit in Haydock (October).
Warehouse REITs purchase of the Midpoint 18 estate in Middlewich Cheshire, (October).
Chorley Council's purchase of TVS National Parts Warehouse at Revolution Park Chorley, (September).
Infrared's purchase of Triumph Business Park, Speke. (September).
Alpha Real Capital purchase of Alpha building at Manchester Airport. (September).
Greater Manchester's purchase of Royal Mail, Stakehill (August).
"Key deals B8RE acted on include Movianto, Warrington, Midpoint 18, Triumph Business Park and Royal Mail, Stakehill.
"Whilst we are not seeing prices generally reducing in the industrial sector, transactions are taking a lot longer. Investors are not taking 'views' and are being extremely thorough. This is a good thing and will hopefully avoid reckless buying.
"Vendors are generally being patient and allowing purchasers to work through acquisitions in this way.
"Demand remains strong for the right assets, with particular interest in 10 year plus income on quality distribution and prime and secondary multi-let estates."
Do you see these circumstances changing? More specifically, what is your perspective on the impact of Brexit over the coming months? Are there any likely challenges you can point to?
"It used to be a week was a long time in politics. Now it's a day! However, we can make some tentative predictions in the short, medium and longer term.
"In the short term, the lack of clarity over Brexit is having an impact on immediate activity. Investors are generally unwilling to bring assets to the market amid immediate uncertainty and a lot of buyers, particularly institutional ones, are now unwilling to put new opportunities under offer so close to Brexit.
"The majority of trading will probably happen quietly in an 'off market' type environment. It will continue to occur but the buyer pool will be thinner as evidenced by the level of current live requirements. Some, however, will just get on with it!
"In the medium term, we could see activity resuming, assuming political and economic uncertainty has been resolved.
"Pricing did most certainly peak in 2018 with little difference between prime South East assets and assets in the North West. Prime yields reached in the region of 4.25% compared to a five year average of 5.25%. A lot of investors sensed an overheated market and started to pull back.
"I believe we won't see a return to the peak of 2018 but more like a return to normality following this period.
"In the long term, we feel industrial will remain one of the few assets classes of choice.
"We will see a steady but growing reliance on the sector from a wide base of users particularly those relying on the internet but also manufacturing and other users.
"Yields will remain competitive subject to a low interest rate environment and a steady equilibrium between demand and supply promoting a healthy rental growth climate."
Speculative development funding remains cautious following oversupply in other regions but this could be misleading for the NW. What are the key differences?
"Well, the fears of oversupply are not as great in the North West. Prime sites are in short supply and take up is still healthy particularly on well-located buildings and sites constructed to the right specification.
"There is still an appetite for speculative funding but where risk is carefully considered. Joint ventures are particularly appealing."
What are the most positive trends you are seeing?
"I would highlight three positive trends to date that I see continuing:
"Pricing relatively unaffected in our sub market."
"Occupier activity is still there albeit cautious."
"Deals are transacting and Q3 2019 levels are not that different to 2018."
We'll be wrapping up more insights with upcoming interviews with the experts behind B8RE's success.
Want to learn more now? Download your copy of the current B8RE Market Report now, or learn more about our experts.
---
Share this article