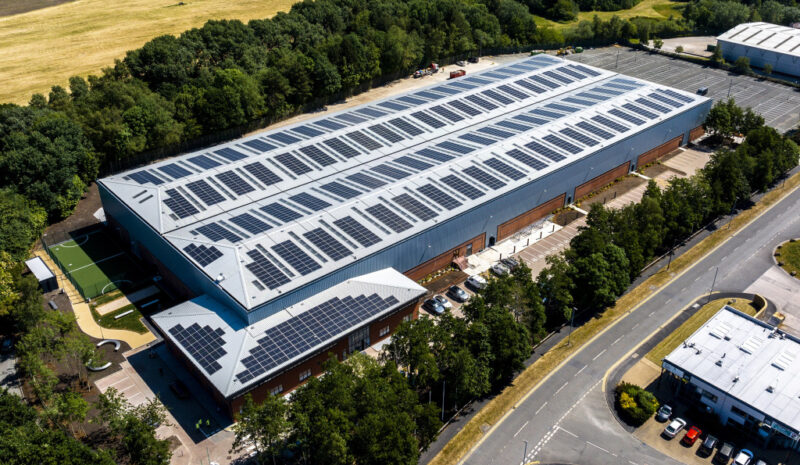 John K Philips has signed a 15-year lease at Solar120, a BREEAM Excellent warehouse located at Europa Boulevard in Gemini Business Park.
The transportation firm will relocate from its St Helens base at Saints Retail Park to occupy the 120,500 sq ft Warrington building, which features around 9,000 sq ft of office space as well as a multi-use games area.
According to John K Philips, the move is part of the company's growth and sustainability strategy and will provide 50% more storage capacity.
CBRE Investment Management acquired the former BT call centre site in January 2022 from developer Telereal Trillium for its transformation into a warehouse, which completed in June.
Now complete, Solar120 is projected to emit zero kg of carbon dioxide per year. This emission is reduced from 435,300 kg at the time of acquisition.
Carbon emissions have been reduced by retrofitting the building to install heat pumps and LED lighting, remove gas supplies, and generate sustainable energy on-site.
Solar panels have also been installed onto Solar120's roof to supply up to 670K KWH of renewable energy to its new tenants, hence the name.
Tenants will also be provided with 18 HGV and 88 car parking spaces within the wider 8.5-acre site.
Ian Fairweather, director at CBRE IM, said: "As one of the first refurbished industrial buildings to achieve a BREEAM Excellent rating, Solar120 has set new standards for the sector.
"The successful refurbishment and strategic repositioning of the property as a sustainable, high-quality asset exemplifies our commitment to innovation and sustainability, with the intention throughout being to retain and re-use as much of the existing property as possible, to minimise embodied carbon."
John Philips, chief executive at John K Philips, added: "In an ever-demanding world of sustainability, we are excited to be relocating to Solar120 as this exceeds the expectations of our clients and will prove a major asset in attracting new business."
Gerald Eve, B8 Real Estate, and Moriarty & Co acted as letting agents for CBRE IM. Avison Young advised John K Philips on the deal.
---
Share this article