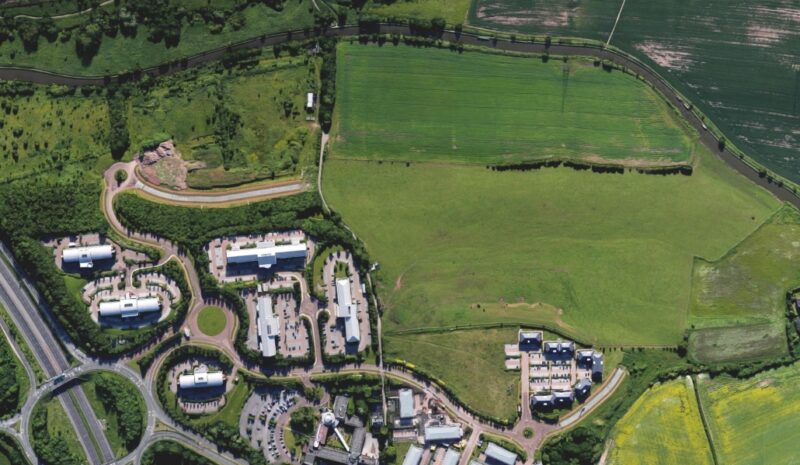 Residential developer Castle Green Homes has acquired a 43-acre site at Daresbury Park, Cheshire as it continues its expansion in the North West.
B8 Real Estate acted as agents for the deal, which was completed via a competitive tender process for a sum in excess of the £25m asking price.
The site, which is off junction 11 of the M56 and situated behind the main office park, was previously owned by Marshall CDP which secured outline consent for 305 homes in 2020.
Castle Green has now applied for detailed planning consent for the first phase of development, which will consist of 108 homes on 13.6-acre plot. The company, which recently opened an office in nearby Preston Brook, aims to start work on site later this year.
The acquisition is another step forward for Castle Green, which was previously known as Macbryde Homes before the management buy-out in 2020 led by Managing Director Gwyn Jones and backed by its investment partner Bridgemere UK, chaired by former Redrow Homes founder Steve Morgan.
The St Asaph-based company is now on track to fulfil its plan to quadruple the size of the business by 2025. Castle Green completed 280 homes in the year to March 31, 2022, up by nearly a third on the previous year, and increased turnover by almost 45% to £78m.
Jon Thorne from B8 Real Estate, the North West's leading industrial property agents and which are based in Daresbury Park, commented:
"We are delighted to have completed this acquisition for Castle Green on a site that is very close to our own headquarters on the Daresbury office park. The deal demonstrates our ability to unlock opportunities not only in the industrial sector, but also strategic development sites linked to our core industrial advisory work. We look forward to seeing the scheme progress."
---
Share this article