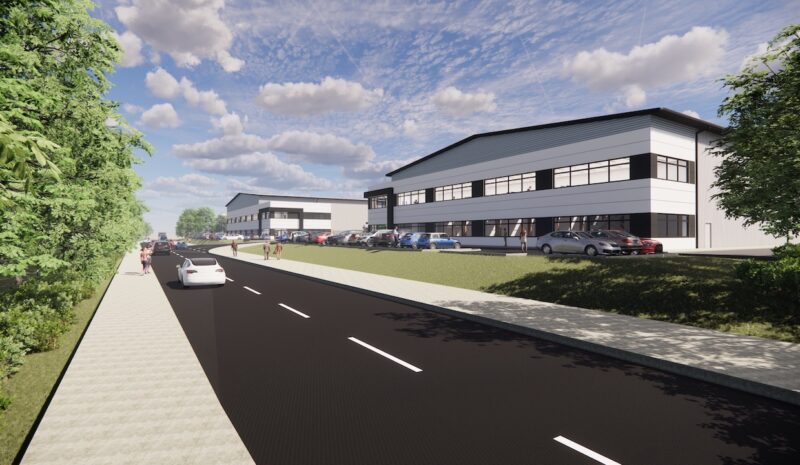 Greater Manchester Pension Fund (GMPF) has completed a deal to forward fund South Manchester developer Quorum on a new high-quality speculative industrial development in Altrincham.
The scheme totals over 62,000 sq ft in two units on an existing mixed use site fronting George Richards Way, one of the main spine roads, alongside Atlantic Street, running through this successful South Manchester estate. B8 Real Estate advised Quorum on the deal and Avison Young advised GMPF.
Quorum originally bought the site from Administrators and has achieved planning permission for a high-quality development of two detached units of 37,119 sq ft and 25,313 sq ft. B8 Real Estate, Avison Young and Knight Frank have been appointed as joint lettings agents.
Demolition has now been completed, Caddick Construction have been appointed and the development is expected to complete in Autumn 2023.
This Broadheath area of Altrincham is a significant commercial location not only serving the local area but a large part of the south Manchester market including Manchester Airport. Land and building supply is extremely restricted and as such it is expected this estate along with a number of other new developments in the immediate area will help service an ever increasing demand.
Andrew Slater of Quorum, said: "The Broadheath estate is a key industrial location and home to some major businesses. The willingness to forward fund speculative developments such as this demonstrates confidence in the future of this location as an investment and employment area. We are delighted to have GMPF as a partner supporting us in the delivery of such a great scheme."
Will Kenyon of B8 Real Estate, who is the joint letting agent along with Knight Frank and Avison Young, commented: "This scheme will provide much needed industrial stock into the mid-box sector in South Manchester following the record levels of take-up in the region across all size ranges over the past few years. We look forward to securing strong rental levels for the units with good interest from the outset."
---
Share this article