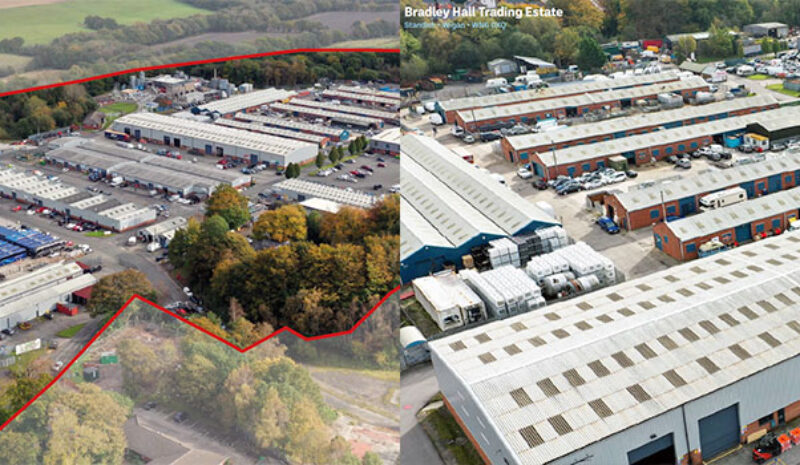 Stenprop has continued its path towards building a 100% multi-let industrial portfolio with the acquisition of the Bradley Hall Trading Estate in Wigan.
The investor has paid over the asking price to acquire the trading estate from Himor, which was launched for sale by CBRE in March with a price tag of £18.9m.
The 287,000 sq ft industrial park covers 65 acres and is home to more than 100 businesses, with a mix of larger warehouses and smaller units starting at 450 sq ft. The park also offers office accommodation along with storage land and additional space for further development.
The assets generate around £1.4m per annum with an average rent of just over £4/sq ft.
Stenprop said the estate had several asset management opportunities with numerous lease events in the coming years along with the potential for additional development.
Following the acquisition, multi-let industrial estates make up 75% of Stenprop's total portfolio, and the company said it was "on track" to be 100% MLI by the end of the current financial year.
CBRE acted for Himor and B8RE acted for Stenprop.
Will Lutton, head of investment at Stenprop, said: "Located in one of the best performing industrial regions of the UK, this acquisition fits well with our strategy of acquiring assets with strong day one income and the opportunity to add value using our management platform.
"We have already identified a range of asset management opportunities at the Bradley Hall Estate which we are confident will enable us to increase the rents significantly over time.  The granular tenant base and smaller unit sizes are well suited for the strength of our Industrials Hive operating platform and our Customer Engagement Manager and Smart Lease models."
Himor managing director Mark Booth, said: "We have owned Bradley Hall for 16 years and the sale is a significant moment in Himor's history. We are focused on a number of new developments and coupled with a very strong market, it was the right time to sell the estate. We wish Stenprop all the best with its future ownership."
---
Share this article