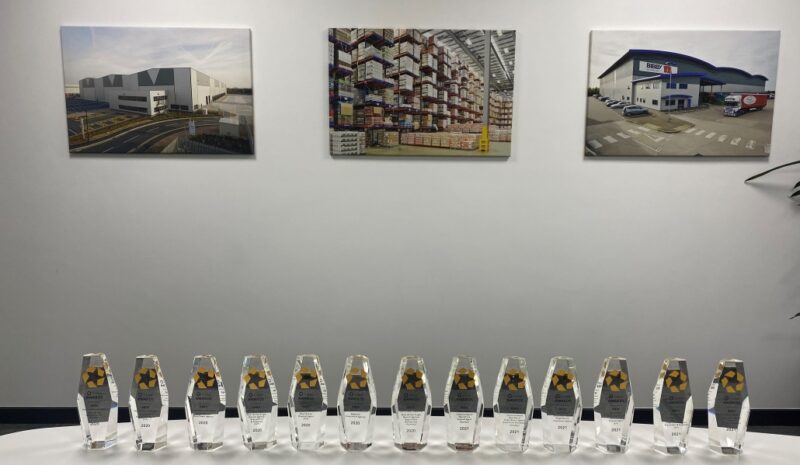 B8 Real Estate has scooped the majority of prizes in the North West category of the prestigious CoStar Awards – for the second year in a row.
The team won six out of a total of eight regional titles in the 2021 awards, following their success in winning seven out of eight last year. The CoStar Awards recognise the success of the UK's top commercial property professionals and are based on a detailed analysis of the thousands of deals collected by CoStar in a 12-month period.
This year B8RE was recognised as being the region's most active industrial disposal agent (in terms of both number and total sq ft of space),  most active single branch agency (again in terms of both number and sq ft), most active acquisition agent (sq ft), as well as two investment awards.
Jon Thorne, director of B8RE, said:
"These awards reflect the hard work of our team and our ability to get deals done – even during the difficult pandemic period. Our expertise and reputation in the industry is such that we are involved in the majority of industrial deals in the North West in some way – whether acting for the buyer, vendor or tenant or in another advisory role. The awards further cement our position as the North's leading industrial and distribution occupational and investment agent."
The full list of awards won by B8RE was:
2021
North West Industrial Award Most Active Disposal Agent (Number)
North West Industrial Award Most Active Disposal Agent (Sq Ft)
North West Industrial Award Most Active Single Branch Agency Acquisitions & Disposals (Number)
North West Industrial Award Most Active Single Branch Acquisitions & Disposals (Sq Ft)
North West Industrial Investment Award Regional & Agency
North West Industrial Investment Award Single Branch Investment Agency
2020
North West Industrial Most Active Disposal Agent (Number)
North West Industrial Most Active Disposal Agent (Sq Ft)
North West Industrial Most Active Acquisition Agent (Sq Ft)
North West Industrial Most Active Single Branch Agency Acquisitions & Disposals (Number)
North West Industrial Most Active Single Branch Agency Acquisitions & Disposals (Sq Ft)
North West Industrial Regional Investment Agency
North West Industrial Single Branch Investment Agency
---
Share this article