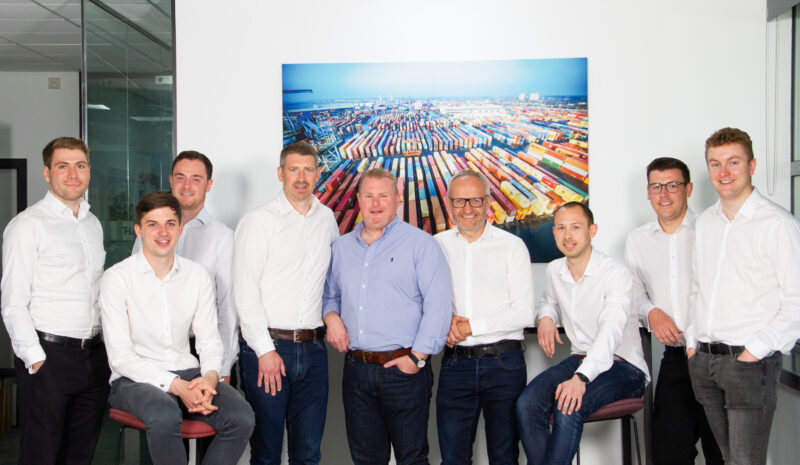 B8RE, the North Wests leading industrial agency founded by Simon Wood, Steve Johnson and Jon Thorne in 2011 has announced a series of promotions to Director and Associate Director.
John Burrows, who focuses on North West Industrial Investment, and Will Kenyon, who focuses on industrial leasing have been appointed Directors. In addition, Anthony Mellor, Thomas Marriott, Alex Perratt and Joe Sinclair have all been promoted to Associate Directors.
Based at Daresbury Park Warrington B8RE is regularly ranked as the leading occupational and investment agency in the North West with the teams having been involved in over 2.5m sq ft of occupational transactions and £200m of investment deals in the past 12 months.  In 2022 B8RE announced the business sale to an Employee Ownership Trust (EOT) whereby all the members of staff have an ownership in the company.
Speaking on behalf of the 3 founding Directors,  Simon Wood said:
We remain committed to building on our position as a leading independent force in the market and we are very excited with these deserved promotions which follow on from the EOT announcement and recognise the importance of our team and their exceptional commitment.. B8RE's strength lies in our expertise and personal service which in turn relies on the knowledge and work ethic of the whole team. The new promotions continue to put our people at the heart of the business and provide a vital framework for longer-term growth and success. A massive congratulations to new Directors John and Will and also to new Associate Directors Alex, Anthony, Thomas and Joe.
 On behalf of the wider B8RE team John Burrows said:
It's great that the continued success over the last few years has been recognised and rewarded by the founding Directors, as the team continues to develop and grow.  Looking forward, this is a very exciting time to be part of B8RE as the EOT  progresses and we look forward to working with the founding Directors to continue to provide best in class service across the North West occupational and investment markets.
---
Share this article