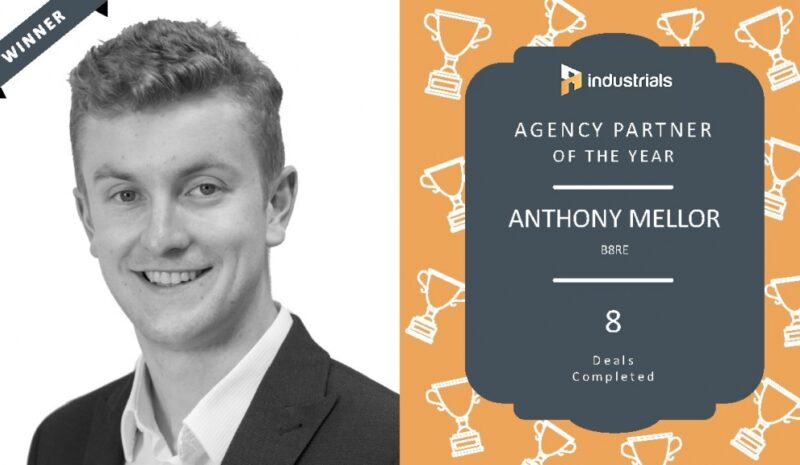 Anthony Mellor, Surveyor at B8 Real Estate (B8RE) wins Agency Partner of the Year 2020 at Stenprop's Agency Awards.
Anthony commented,
I am pleased to have been recognised for the award of Agency Partner of the Year 2020 by Stenprop. In the past 12 months I have acted on 8 lettings, on behalf of Stenprop alone, which shows the strong demand for good quality multi-let industrial space in the North West despite these uncertain times.
B8RE specialises in the North West Industrial and Logistic property market. The small Multi-let Industrial (MLI) market is a key aspect of our agency instruction base, we are proud of our performance in this sector and confident this will continue in the future.
We are seeing a healthy demand for good quality small MLI units, particularly in the 1,000-10,000 sq ft range. Demand is mainly from flourishing small and local businesses requiring good quality buildings on flexible terms.
The lack of supply has created an opportunity for clients such as Stenprop to increase rental levels and decrease void rates. All six estates we act for them on are fully let or very close to 100% occupancy across the regions: Merseyside, Warrington and Greater Manchester as follows:
Lea Green Business Park, St Helens
Boaler Street, Liverpool
Carrock & Mosedale Road, Bromborough
Compass Industrial Park, Speke
Clarendon Court, Warrington
Globe Park, Rochdale
About the awards:
The Stenprop Agency Awards recognise and thank those in the industry who have completed outstanding work during the last 12 months.
Stenprop is a listed property company with assets currently located in the UK.
Find out more about our latest agency instructions in our property portfolio.
---
Share this article