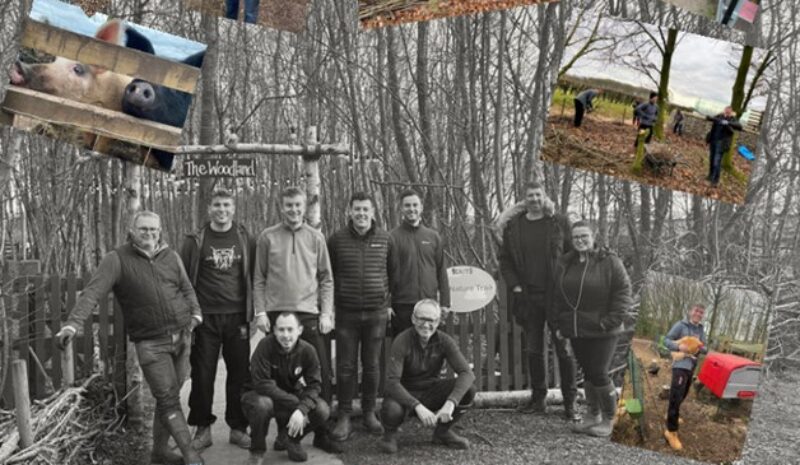 B8 enjoyed a Team Building Day at the Children's Adventure Farm Trust (CAFT – www.caft.co.uk) on Thursday 3 February 2022 downing their everyday office tools in order to deal with the challenges that lay ahead of them for this worthwhile cause.
CAFT's History
CAFT started back in 1985, when founder Tim Grundy was inspired to create a special place where terminally ill, disabled and socially disadvantaged children could have a break away from their circumstances. Tim was inspired whilst donating toys to a local centre supporting young children, he asked "Is there anything else these children need?" The response: "What these children need is a holiday, but they'll never get the opportunity."
In 1989 after four years of fundraising, Booth Bank Farm, a 17th century farmhouse set in the heart of the Cheshire countryside was purchased at auction. in 1992, after a further three years of hard work renovating, The Children's Adventure Farm Trust was ready to receive the first children for a holiday at the Farm.
And what they do
They provide a variety of free programmes for terminally ill, disabled and disadvantaged children from all over the North West.
CAFT helps children of all abilities aged 17 and under. Children who through no fault of their own miss out on the normalities of childhood. The needs of the children visiting the Farm are complex and range from severe physical and learning disabilities, sensory impairments and terminal illnesses through to children who act as carers for a family member, to children who have already faced bereavement and children who have witnessed and been victims of abuse. For these children, a visit to CAFT provides a much needed opportunity to have fun and laughter and to simply enjoy being children.
Each child that visits the farm is treated as an individual with their own strengths, likes and dislikes. Disability is never seen as a barrier to participation and welcome children from all social and ethnic groups. Their brilliant Activity Play Specialists are trained to provide fun, safe and engaging activities that suit the interests and needs of every child who visits them. CAFT is about fun for all.
The B8 team had their day mapped out for them clearing and re-building a section of dead wood hedging whilst maintaining a fire for burning the hedging and debris, clearing a section of grassland in the open wood, cleared the woodland of loose parts in the play area. Headed over to the petting area to clear leaves, brush paths, rake ground to allow regrowth and stacking twigs etc into crates for firewood.
As you will see from the photo's the team were not alone and joined by various animals including pigs, chickens, sheep, goats, alpacas !!!
The team were well fed and watered throughout the day thanks to the dedicated volunteers at CAFT, particularly Joy Potter.
---
Share this article